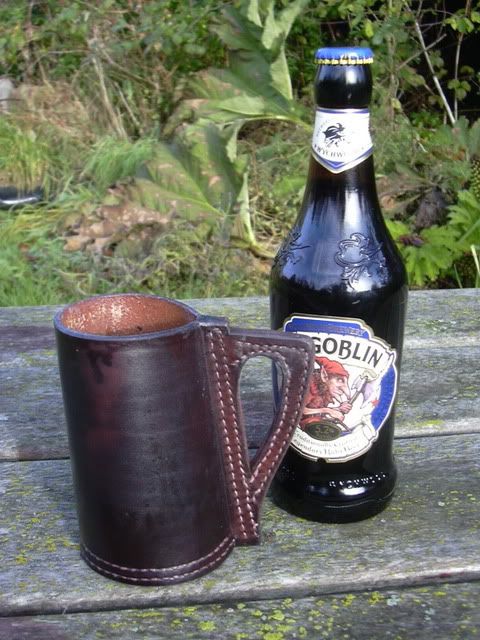 Here is something I have been thinking about doing for a while. A leather mug!
I am not a big beer drinker but I do enjoy the odd one now and again, such as this Hobgobblin.
I thought it would taste even better in a traditional leather "mug" accompanied by the smell of beeswax and it does. Nice to think it's not something that's been mass produced in China like most things today.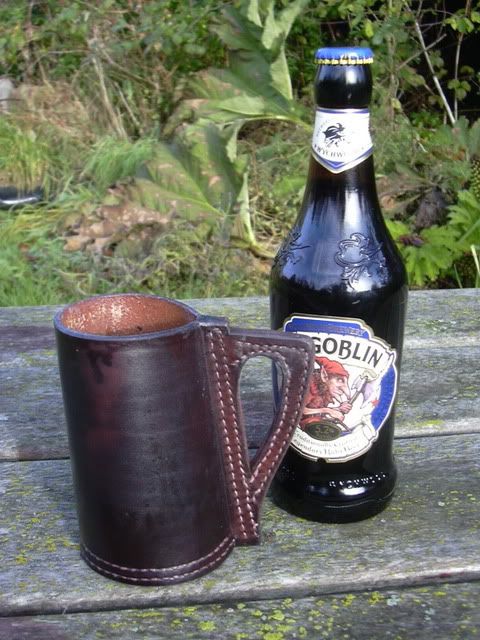 These are the bits of leather necessary to make the mug. Then you only need some linen thread, two harness needles, a bit of beeswax for the thread, and a bit of time...
Then, when the thing is sewn together, you need to wax it. I heated the beeswax in a double boiler in the kitchen.. Something you want to do when you wife is in London!!!
My boiler is not big enough so I could not dip the whole mug into it. I had to improvise by pouring the liquid wax into it with a ladle then poured it out again once bubbles stop appearing in the liquid wax. The wax was ladled on the outside of the mug. I used a heat gun to finish melting the outside wax and help it sink into the leather.
Once cooled the mug is hard as steel. Just don't put hot liquids into it.
Cheers!
Next thing on the list is a leather bottle, or a flask.