This is something I have wanted to have a go at making for sometimes. There are all sorts of whips: bull whips, snake whips, stockwhips etc
They look complicated to make, but if you can follow instructions, you can make a whip. Ok, it won't win championships, but it's possible to make a decent leather whip. And making this one is giving me an appreciation of the work of some professionals you can see on the web.
So, this stockwhip of mine is going to be a simple 4 plait Australian stockwhip. I am following the instructions in a book, and so far I have made the whip, complet with the fall and the cracker.
This is the core, a twisted strand of leather
This is the leather cut to make the 4 plait whip itself
Plaiting done. We have a whip! I really enjoyed doing this bit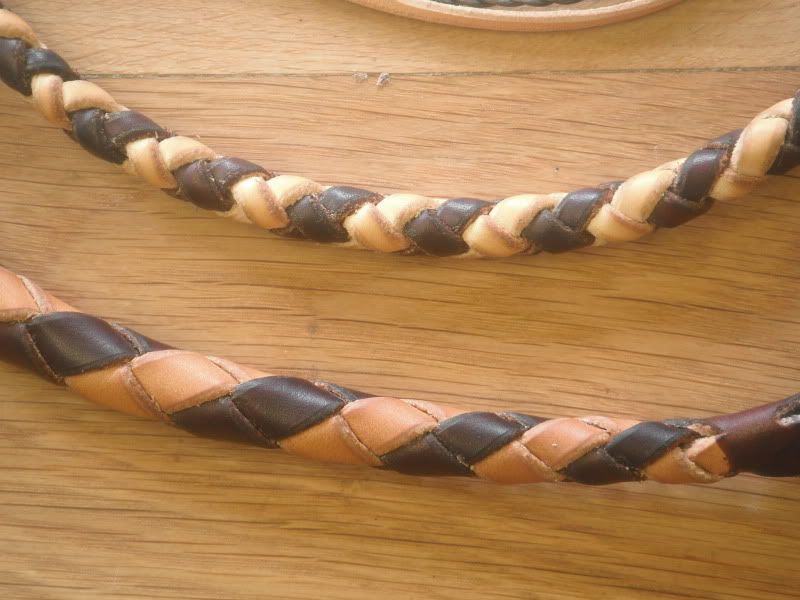 Detail of the plaiting
I have started to work on the handle (no pics yet) It's going to have an 8 strand plait covering, a turk's head knot at the end of the handle. A french whipping will finish the end where the keeper is fitted.
I'll put up the pictures of the handle tomorrow.
I forgot to say, I have never made one of those before: this is streching my leather work skills a couple of notches!