This is my latest right handed crooked knife. The handle is Rippled Sycamore. This blade is 80 mm long, with a marked curve at the tip 20 mm, and a more gentle curve for the rest of the length.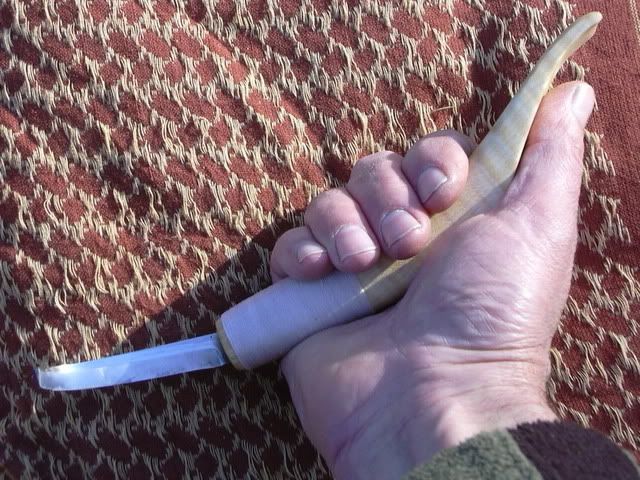 A couple of pictures of a small neck knife. Again I used Rippled Sycamore for the scales. the blade is 75 mm long.
These two are my latest work.The first one is a Nesmuk, the second one a Sgian Dubh.
The Nessmuk is 188 mm long, made of 01 tool steel. The handle scales are Rippled Sycamore treated with boiled linseed oil, and I used brass pins and lanyard tube. I used some black fibre liners for contrast to the light coloured Sycamore. The handle shape is a subtle bushy type.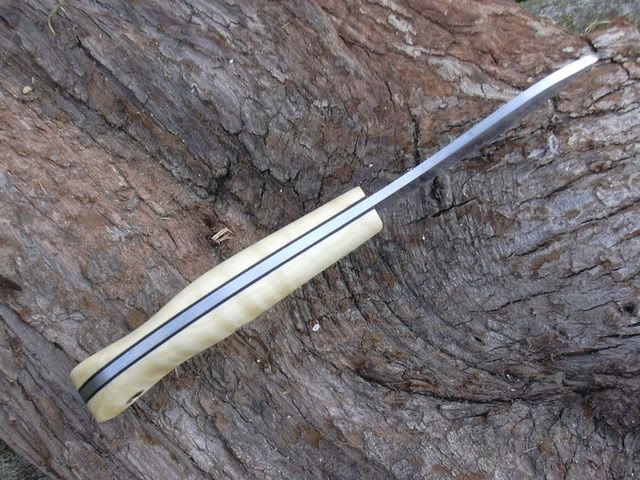 The SgianDubh is a bit of a departure from the knives I make normally. I have seen a lots of these knives on the net, but also, a lot of them seem to be poor quality and/or tacky looking.
My interpretation is 177 mm long, the blade is 24 mm wide and 3 mm thick. I used a scandi grind because I think it will make it a more useful knife. The handle scale are stabilised Burr Elm, epoxied to the full tang and held & decorated with two copper/steel mosaic pins. The blade has filework all around the handle.
I have tried to create a simple and crisp design, hopefully, I have done justice to the Sgian Dubh design.