I am coming to the stage where fibreglassing the hull is the next step. I have a 100 metre roll of 200g per square metre cloth and 30kg of epoxy (expensive!!)
So my options are:
3 narrow sections, lengthways, with the joints running along the fillets
1 metre wide sections across the sides
3 or 4 lengths of cloth across the sides
or go the whole hog and do each side on one length of cloth
I intend to use so called peel ply fabric. The theory is that less resin should be necessary and the surface finish is much, much better, requiring no cleaning of amines, and little or no sanding. That would be bliss, because I seem to have a bit of an allergy to polyester dust and I worry that this could translate to an allergy to epoxy dust too. Also the surface is supposed to be much better for subsequent application of coatings, ie paint.
If I do the whole sides in one go, that would need mixing a lot of epoxy at one sitting but would have no joints and hopefully no sanding.
Decision, decisions...what's the simplest and quickest!
I think I'll wait until I have the peel ply fabric before I make a decision. I have not used peel ply before, and for all I know it may not follow the profile so easily, in which case I will have to do this in sections.
There is a strip of the cloth across the side. It follows the profile quite easily with those fillets.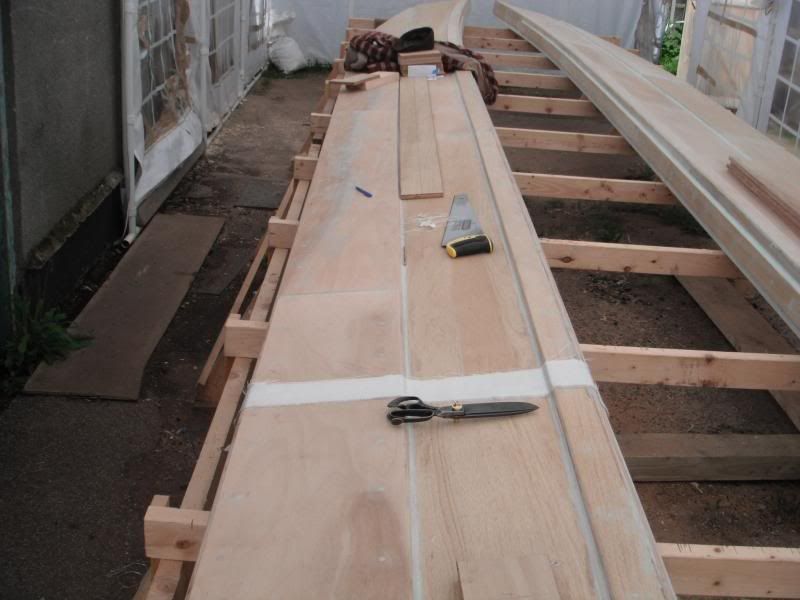 36ft of it!
As an asides, I bought a lovely pair of taylor's shears from an antique place. Much cheaper than buying a new one. Besides I love old tools anyway, they are most often superior quality and all that was required for those shears was to sharpen them, which took just about 5 minutes. As a bonus, they were made when the Brits still knew how to make stuff in their own country.