Well, I said I'd play it safe to start with.So here are some of my leatherwork and some knives I have made. I started making these things because Ray Mears forced me to do it!
Wet formed possible's pouch with leather carving. All well dressed Bushcrafters need a leather pouch to carry their stuff. And sometimes another bushcrafter sees it an asks if you'd make one for him. This is one of the one I made for someone.
A carved leather sheath. This is my first attempt a leather carving. The knife in there is calledCopperhead on account of the lump of copper used for the pommel.
A small pouch, based on a 18th century hunting pouch. The mobile is not 18th century. It is also dead! Having drowned in the toilet shortly after the photo was taken. RIP mobile...
Double dangler sheath for my Woodlore interpretation.
Slightly modified to fit the Bushcraft style handle on my Nessmuk knife design.
I designed this sheath to fit my first Nessmuk.
Neck knife sheath.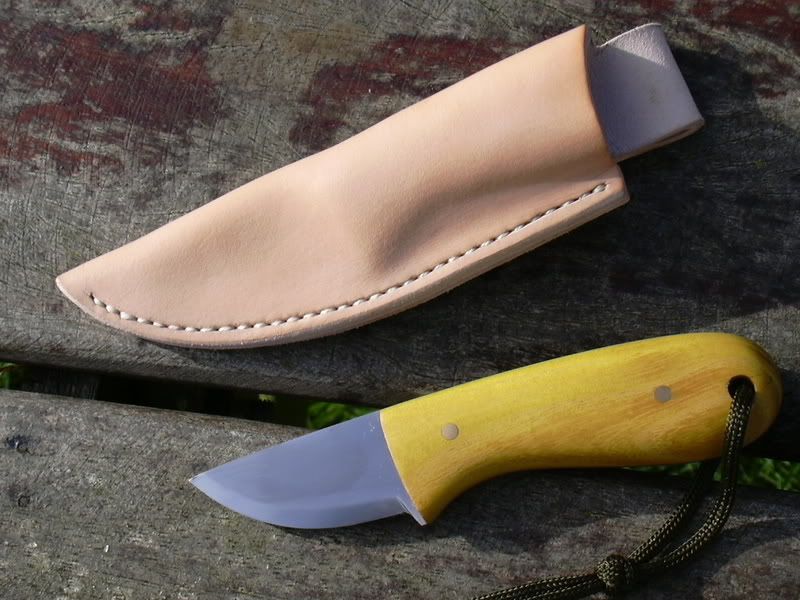 Another sheath, for the survival knife.
My first sheath, to go with my first knife. This is the first. I wanted a knife, but I didn't want to slavishly copy the Woodlore. I turned out pretty good for a first knife. Well, I trained as a toolmakers when I was a young man.