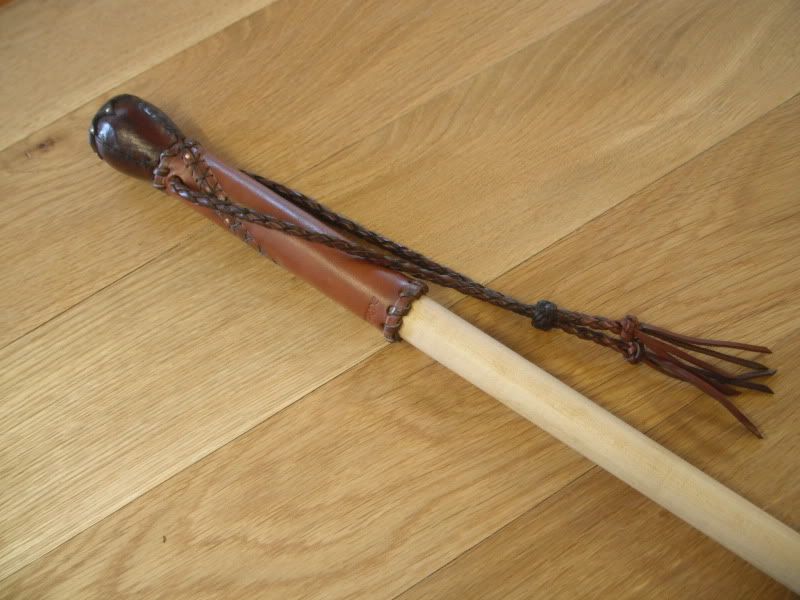 Ever since I had torn tendons in my foot, I have been using a stick of some sort. Generally my foot does no cause me too much problems, but sometimes it can get quite painful still. Besides, I have come to enjoy having a good stick with me, as they are really quite useful. I used the aluminium poles to start with but they are not something you can like very much, so I ended up making a variety of hicking sticks. This one is my latest creation.
The stick itself is Hickory about 3/4" diameter and 48" long, left over piece from a bow I made some while back. The handle is leather and incorporate a miniature compass.
The lanyard is a 4 strand leather sennit (plait) stained, passed through the hole in the stick, each end of the lanyard separated into 2 and joinded together to form the loop. The join is covered by a leather turk's head knot. It should have been 3 strand turk's, but ended up 2 strands, because I ran out of leather lace!
I turned a wooden ball, epoxied the compass in place on top and covered it in leather. I should really have recessed the compass into the ball, and so had to add the compass/start leather design to recess the compass fully. The star is tacked into place with proper brass pins. (not brassed steel pins!) And I think it looks nicer now thant what I had planned in the first place.
It's maybe on the slightly heavier side, but that was quite a nice project as I enjoy working with leather; this stick is now my new favourite!